Data Centres
Data Centres present their own challenges for specialist servicing needs to meet client requirements for continuity of service at all times.
We have designed specialist new data centres as well as converting old office buildings, factory units and warehouses to this use.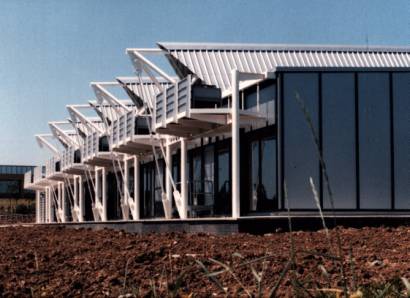 Milton Keynes
This is a purpose built data centre where we were permitted the freedom of expressing the structure externally.
The main trusses are triangular and portalised to give a 35m clear internal space.
The building is modular so that it can be easily extended.
Air conditioning units are supported on external plant pods
Hurst Peirce + Malcolm LLP were responsible for all aspects of the structural design.
East London
1 Brick Lane was converted from clothes manufacturing workshops to a data centre.
The building is a 1950s concrete framed structure with flat slab floors.
Structural engineering works included the construction of a new lift shaft, service risers and accommodating three 8 megawatt generators on the roof.
West London
This data centre was developed by converting an existing warehouse and installing an internal mezzanine floor and plant support structures.
The ground conditions were poor so the foundations to the mezzanine were supported on piles bored through holes cored in the ground floor slab.
Hurst Peirce + Malcolm LLP were responsible for the structural design.